How to save time and start learning Russian
"

with the right foot.

"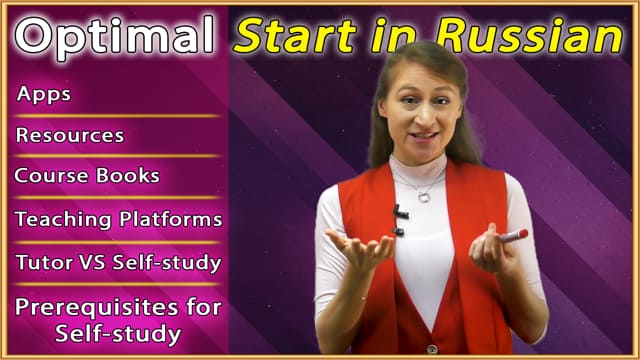 I know how difficult it is to start learning something from scratch. The Russian language is no exception. You have to consider a lot of options, choose from various strategies, schools, resources and tools that are out there. The agony of choosing worsens if you are a person who wants to do everything the most optimal way, who wants to save time and money and get the best possible result.
During our private consultation, I will advise you on the most optimal way of getting started in learning Russian that suits you.
I will tell you if such a way of learning as self-study suits you or not, and why. If it does suit you, I will help you choose among various self-study resources and tell you what results you will achieve using these resources and in what time. I will also tell you about some useful learner's habits and routine that will make your self-study process more efficient and I will recommend some technology solutions that will save your time and speed up the process of self-study.
If self-study is not your way, I will explain why and advise you on what to look for in your tutor, what questions to ask your tutor before buying lessons with her/him.
I am able to advise you on the above because I have been working in the sphere of Russian as a Foreign Language since 2014. I am a certified teacher, linguist and translator that has a YouTube channel which is considered the best at breaking the language down into details and explaining the Russian grammar concepts.
I know the most common questions that arise in a Russian learner's head and I can give you the answers to these questions. I will also give you a heads-up on the questions and difficulties that you haven't come across yet but you will come across on your Russian language journey.
I will give you advice on the basis of your temperament, your leading perception channel, the peculiarities of your native language and other learner's characteristics. After a 1-hour consultation you will receive a structured plan for a "general offensive" to master the Russian language. It will be easier "to win" if you see the whole picture than if you blindly wander in the corridors of the Russian language until you hit some insurmountable wall, and you have to go back and start over.
If you want to make a quick and painless start in Russian or if you already hit that wall and want to get this right at last, schedule a consultation with me and I will help!